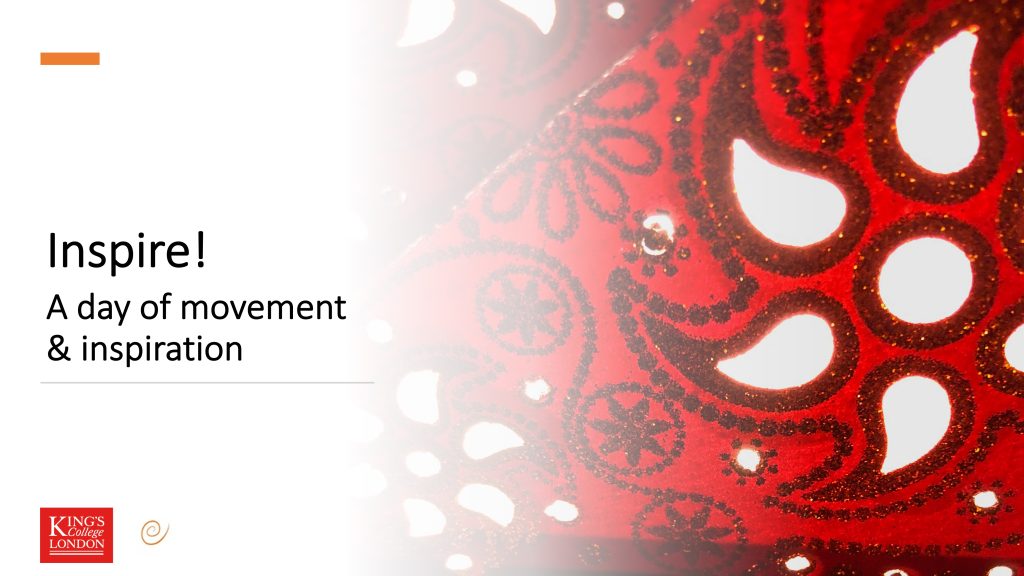 Thursday May 4th, 2023 – 1.00-6.15pm
Great Hall, Strand campus, King's College London
In + spiro ('breathe')
Breathing, Moving, Walking, Being, Connecting, Creating, Touching, Exploring, Inspiring
'Feel the vibrations of the throat and chest, the feeling of breathing and the texture of the wind on your face…' Jane Bennett
'It only takes a reminder to breathe, a moment to be still, and just like that, something in you settles, softens, makes space for imperfection'. Danna Faulds
Organised by:
Ann R David Cultural Development Fellow and Visiting Professor, CMCI
Nick Wilson Professor of Culture and Creativity, project lead – Cultures of Care, CMCI
CMCI and Cultures of Care offer an exciting day of embodied practice at King's Strand Campus, on Thursday May 4th 2023, 1.00pm-6.15pm. Come along to the Great Hall and join us in movement workshops, the use of breath in voice and song, watch some screen dance and participate in town hall discussions. How can guided movement practices re-establish our sense of well-being after COVID? How can we re-connect with and enhance our own creative sensibilities and what really matters to us? How does embodied practice make use of our own potential? How might our individual and shared movements move each other and the world – so enabling practices of cultural development and democracy?
Programme
Part 1: Inspire!
Introduction – Ann R David
Befriending song and dance – Nick Wilson
Breathe, Move & Flow dance session – Andrew Sanger
Part 2: Global cultures movement sessions
Rhythms & gesture (India) – Priyanka Basu
Lyricism in movement (China) – Joanna Hangyu Zhou
Polyrhythms and dance (East Africa) – Joana Mbabazi & Henry Katumba
Part 3: Dance & wellbeing
Films and discussion – Ann R David & Sara Houston
Please wear loose clothing; no experience of dancing/ movement required
In the current world climate, adaptability and connection are key for not only our health and sustainability but also in ecological terms. How may we create real cultures of care – care for each other, care for the community, care for our world through our embodied, creative and cultural, moving practices? This day of embodied practice engages with global cultures, enabling us to develop our own cultural abilities and cultural capabilities in a participatory, fun and engaged way.
Workshop leaders' & discussant bios
Andrew Sanger:
Originally from Detroit, Michigan, Andrew is currently a lecturer in Dance at Roehampton University and a PhD researcher in Anthropology at University College London. He is a performer and rehearsal director for Jody Oberfelder Projects based in NYC, working in the USA, UK, and Germany. His current research is on dance practices and environmental activism in the UK combining ethnography, performance, queerness, and ecology both embodied and inscribed.
Priyanka Basu:
Priyanka is trained in the Indian classical dance form of Odissi and has performed in Japan, India and the UK. She is a South Asian Studies scholar working at the intersections of literary, cultural and performative traditions, particularly in Bangladesh and India who joined King's College London in September 2021.Priyanka obtained her PhD degree in South Asian Studies from SOAS for which she received the prestigious Felix Scholarship. Her earlier MA and MPhil degrees in English Literature were completed at Jawaharlal Nehru University in India. Priyanka also holds Visiting Fellowships at the Institute of Advanced Studies, UCL and the SOAS South Asia Institute.
Joanna Hangyu Zhou:
Hangyu Zhou (Joanna) has a MA in Dance Studies from University of Roehampton and has won numerous awards in dance competitions nationwide. She has worked at China National Opera and Dance Theatre, is a qualified examiner at the Chinese Folk Dance Grade Test Centre and a qualified Imperial Ballet Dance teacher. Joanna founded an international dance academy and entertainment company in London called 'UK China Performing Arts' in 2017 and has been a leading promoter of Chinese dance ever since. She has over 20 years of experience in dancing, teaching and choreography.
Joana Mbabazi & drummer Henry Katumba
Joana Mbabazi is a Ugandan dance artist pursuing a master's in Dance Anthropology at the University of Roehampton. Her background is rooted in traditional African dance mainly from Uganda, jazz, and contemporary dance. She has worked professionally with Dance Theatre Uganda, Uganda National Contemporary Ballet (UNCB), Musica Para Salva Vidas, and Uganda Heritage Roots, and has experience in teaching, choreography, and performance and loves sharing her practice with others.
Henry Katumba is an artist who has worked with several musicians and dance groups. He has worked in schools in the UK delivering workshops in African dancing and drumming. Henry started performing at the age of 10 and came to the UK as a performer and has over 15 years of experience in African music with a group called the Pearl of Africa.
Sara Houston:
I speak internationally on community dance and political issues concerning dance and the arts. I am passionate about everybody dancing whatever age, gender or ability. I am particularly interested in dance for people who feel marginalised in society. In teaching, I focus on the skills and issues connected with delivering dance in community settings, as well as guiding students through sociological, aesthetic and political theories applied to dance. My prize-winning research project (2010 – 2015) centred on the impact of dancing for those living with Parkinson's and has been commissioned by English National Ballet. In 2011, the Bupa Foundation awarded me its prestigious Vitality for LifePrize for the Dance for Parkinson's research.
Ann R David:
Ann R David, PhD, Professor Emerita of Dance and Cultural Engagement, has worked for over 20 years in tertiary education in dance. She is currently Visiting Professor at King's College London, and Cultural Engagement Fellow in the Culture, Media and Creative Industries department (CMCI). She worked at the University of Roehampton for 17 years, including 6 years as Head of the Dance department. Her research and teaching specialisms are in dance anthropology (ritual, migration, embodied practice) and South Asian classical & popular dance; her dance training includes ballet, contemporary, folk, and the Indian classical styles of bharatanatyam and kathak. Ann is passionate about the arts and dance in education, working closely with policy makers in the arts and is on the board of several arts organisations.
Nick Wilson:
Nick Wilson is Head of Department of Culture, Media & Creative Industries (CMCI). He studied music at Clare College, Cambridge and singing at the Royal College of Music, London and the Hochschule der Künste, Berlin, going on to work as a freelance musician. Nick has published widely on art, creativity, early music, small business management and entrepreneurship. His most recent book The Space that Separates: A Realist Theory of Art (Routledge, 2020) introduces aesthetic critical realism and living artfully. Between 2019 and 2022 Nick led a work package on rethinking growth in creative economies, as part of the Horizon 2020-funded Developing Inclusive and Sustainable Creative Economies (DISCE) research project. During the COVID pandemic Nick launched research on cultures of care. He is currently working on a trilogy of books exploring curiosity and human beings' desire for knowledge.